5 Best Data Entry Courses online -Data Entry Certification courses
Top 5 free Data Entry courses online. Choose the best data entry certification courses for beginners. Learn data entry from the best data entry tutorials
What is Data Entry?
A data entry job is simply converting one form of information into another. Typically, businesses require the input of sales figures into a spreadsheet, transcribe meeting notes, or integrate databases.
As the name implies, data entry jobs involve entering data into electronic forms. A wide range of companies need data entry workers, so having experience in the field can give you an edge. An applicant must possess computer experience, typing skills, and basic clerical skills to secure a data entry job.
Why Data Entry is important?
Data entry can help companies in a number of ways, including allowing them to reduce overhead costs by reducing operational expenses while also ensuring the safety and reliability of important business transactions.
Those who work within sales and marketing departments often benefit from the time management capabilities of data entry work because it allows an employee to focus on other areas that might otherwise need to be done simultaneously, ensuring better organization and collaboration within the company as well.
Data entry has been proven to be one of the most efficient ways for businesses to ensure consistency across their many branches, creating a positive impact (and positive reception) within their online communities!
Top Data Entry Courses List
Disclosure: Coursesity is supported by the learners community. We may earn an affiliate commission when you make a purchase via links on Coursesity.
Best Data Entry Certification Courses For Beginners - Learn Data Entry
Learn from a Successful Data Entry Professional!
In this course, you will learn how to:
become a data entry professional as a complete beginner.
convert pdf and image file.
perform data entry and web research.
practice files to practice the skill and to build your portfolio.
Here, you will learn about data entry project types available on freelance marketplaces such as - Upwork and Fiverr. You will get a clear understanding of:
What are some of the types of Data Entry Jobs available in freelance marketplaces?
How do clients provide us Instruction for the Jobs?
How do we work on Data Entry Projects?
After watching the lessons, after practicing on the provided practice projects in the course, you will have the confidence to move forward, try on getting clients on marketplaces, and become a Professional Data Entry Service provider.
You can take Data Entry Course for Beginners Certificate Course on Udemy.
Course rating: 4.6 out of 5.0 ( 4,278 Ratings total)
Duration: 2 h 5 m
Certificate: Certificate on completion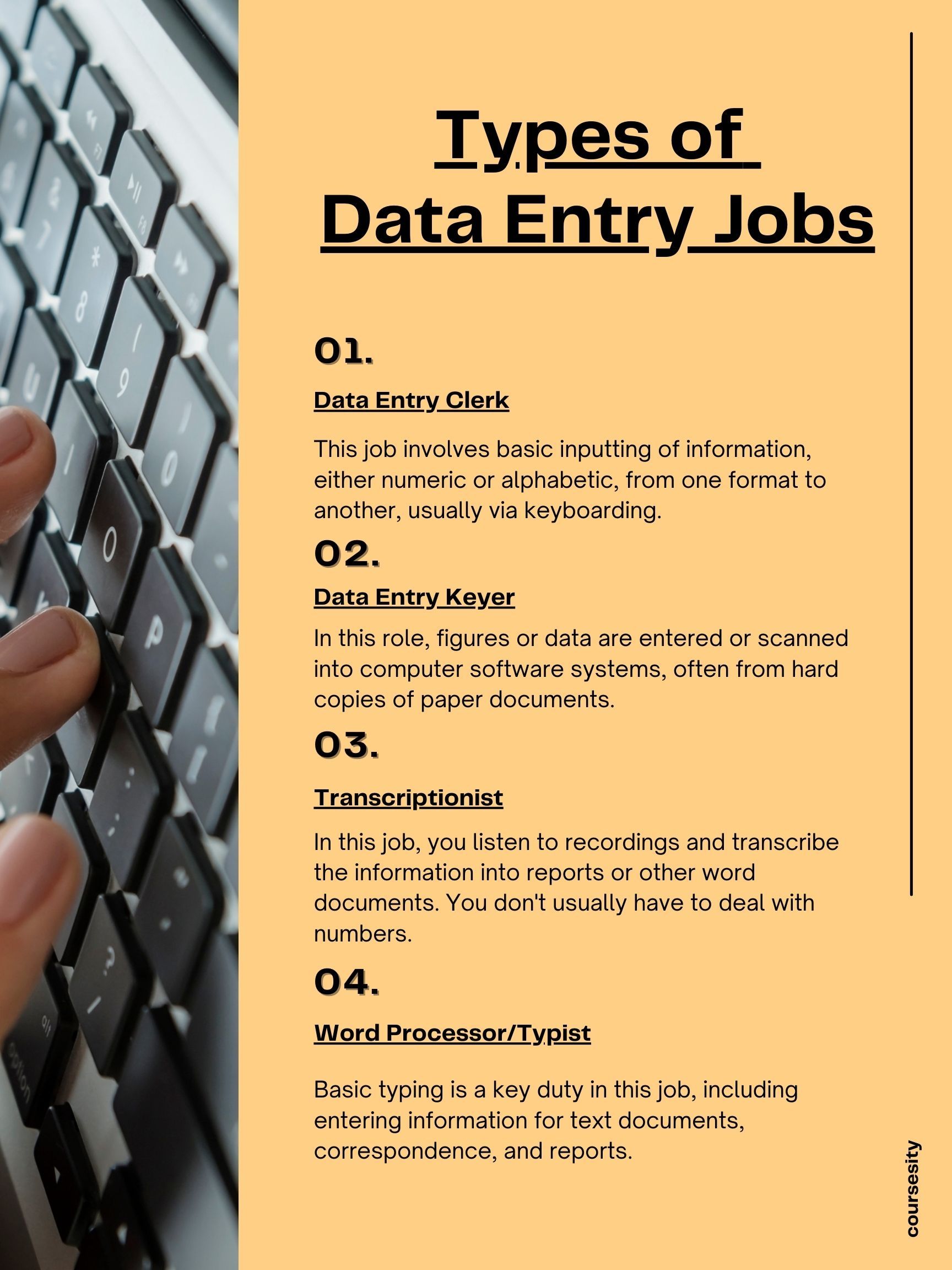 Learn Microsoft Excel as a Beginner and open new opportunities as a Data Entry personnel.
In this course, you will learn:
Confidence with spreadsheet layout, anatomy, and terminology.
Good practices for data entry, storage, and manipulation in spreadsheets.
Common methods of data manipulation and summary such as sorting, filtering, writing simple equations, and using pivot tables.
Common methods of data visualization using charts.
The goal of this Excel course is to give you a foundation on which you can build more advanced skills in the future. Here, you will learn foundational Excel knowledge like spreadsheet and workbook anatomy, data entry, summary, and manipulation, plotting and visualization, and powerful tools such as filters, sorts, and pivot tables.
You can take Excel for Beginners certification course on Edx.
Course rating: 65,356 total enrollments
Duration: 12 h
Certificate: Certificate on completion
Learn to use Xero on a day-to-day basis by following the step-by-step practical instructions in this course.
In this course, you will learn:
everything you need to know to use Xero for day-to-day data entry.
how to sign for a Xero free trial and enter your organization details.
how to design sales invoice layouts, and create and issue sales invoices.
entering purchase invoices and credit notes, including attaching backup.
all about importing bank statements and reconciling your bank transactions.
Check your data entry by designing and running reports.
how to save time and avoid mistakes with some Xero tips.
how you can easily make changes and correct your errors.
The course includes:
Setting up your Organisation
Tidying the Chart of Accounts
Opening Balances
Sales Invoice Setup
Sales Invoices and Credit Notes
Sales Reporting
Adding Suppliers
Purchase Invoices and Credit Notes
Purchases Reporting
Importing a Bank Statement
Customer Receipts
Customer Receipts Reporting
Supplier Payments
Supplier Payments Reporting
Sundry Bank Receipts and Payments
Sundry Bank Receipts and Payments Reporting
Customer Defaults
Item Codes
Supplier Defaults
Repeating Purchase Invoices
Merging Duplicate Contacts
Amending Sales Invoices
Amending Purchase Invoices
Find and Recode
You can take Xero Online Accounting - the Practical Data Entry Course Certificate Course on Udemy.
Course rating: 4.7 out of 5.0 ( 71 Ratings total)
Duration: 3 h
Certificate: Certificate on completion
Want to take your Excel game to the next level?
The course includes:
Seven Significant Shortcuts
Ribbon and Quick Access Toolbar Tips
Display Shortcuts
Navigation and Selection Shortcuts
Data Entry and Editing Shortcuts
Drag and Drop Techniques
Formula Shortcuts
Operational Shortcuts
Formatting Shortcuts
Data Management Techniques
Charting and Visual Object Tips
PivotTable Tips
Tiny Tips
With this Data Entry certification course, you will learn some powerful tips, tricks, and shortcuts you can use to leverage Excel's full potential throughout this course. Learn time-saving tricks for creating formulas rapidly, accelerating data entry, and navigating within worksheets efficiently.
Plus, discover drag and drop techniques, formatting shortcuts, charting, and PivotTable tips, and learn about data & analytics in general.
You can take Excel: Tips and Tricks Certificate Course on LinkedIn.
Course rating: 233,985 total enrollments
Duration: 4 h 24 m
Certificate: Certificate on completion
Introduction to spreadsheets.
In this course, you will learn about:
basic data entry, formatting, and calculations.
relative and absolute cell references.
basic functions: concatenate, split, sum, average, median, min, max, count.
advanced functions: vlookup, if, and, iferror, countif, countifs, averageif, averageifs, sumif, sumifs.
dealing with error messages.
conditional formatting.
filtering and sorting.
basic charts to visualize our data.
The course will use Google Sheets in this tutorial, which is the free spreadsheet program offered by Google. With that said, most of the concepts that you will learn in this tutorial will be applicable to other spreadsheet programs, such as Microsoft Excel.
You can take Google Sheets Tutorial: Spreadsheets for Beginners Certificate Course on Coursera.
Course rating: 4.7 out of 5.0 ( 2,096 Ratings total)
Duration: 2 h
Certificate: Certificate on completion
---
Hey! If you have made it this far then certainly you are willing to learn more and here at Coursesity, it is our duty to enlighten people with knowledge on topics they are willing to learn. Here are some more topics that we think will be interesting for you!